If you guys love doing your nails like me, then one thing you might put an emphasis on is the quality of the top coat!
So what exactly is a Top Coat?
Well, at top coat is basically an overcoat that helps set your nail polish. After applying multiple layers of the nail polish color of your choice, the next step, is to apply a top coat on. The top coat polish will harden as it dries, and it eventually creates a shield that prevents your newly polished nails from chipping, peeling, and getting scratched. Everyone has their preferred points to a good top coat, but in general, a really good top coat prevents chipping, peeling, and scratches for at least up to 5 days. lol there are even super good top coats out there that can have your manicure last up to 2 weeks before any visible chipping!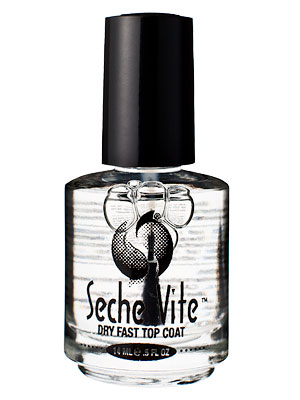 IMAGE FOUND ON GOOGLE.COM
Seche Vite's
top coat is my personal favorite! As you can see on the bottle, the words "DRY FAST TOP COAT", is emphasized on the bottle, and that is a huge factor to why I love this nail polish! Seche Vite's Top Coat is one of the highest ranked top coats, but there is 1 problem that it carries.... it's expensive price! It really depends on where you buy the top coat, but the average cost of this top coat costs around $10.99, which is pretty pricey...even more expensive than O.P.I nail polishes. Anyway, it was after I finished my second bottle that I decided to try out different top coats, preferably ones that are less expensive.
JORDANA
QUICK SHINE TOP COAT!
So one day, I was looking around a drug store around my area, and I happened to find the JORDANA Quick Shine Topcoat. I actually ran out of top coat around that time, and wanted to buy a top coat to use temporarily. One of the biggest points I look for in a top coat is how quick it dries. I'm pretty impatient when it comes to waiting for my nails to dry. haha I tend move around a lot, and before I know it, my nails are all messed up, which means I'd have to redo my nails! That's actually why I liked Seche Vite's Top Coat so much, it dried within seconds, which was amazing!
Anyway, I decided to purchase a bottle of Jordana's Quick Shine Top Coat, and I ended up extremely impressed with the results!
Above are some pictures of my nails that I have previously posted on my blog! With that being said, I actually used Jordana's Quick Shine Topcoat with all of them!
Review on Jordana's Quick Shine Top Coat:
I really enjoyed using Jordana's Topcoat! It definitely dried within 60 seconds (as told on the bottle), and the outcome looked amazing! The outcome resulted in a very nice shiny flawless overcoat! The top coat not only dried fast, but it also helped quicken the drying pace of my base nail polish! I love using dark colors on my nails, but despite that, the opaque and dark colors take FOREVER to dry! I realized that the Jordana Quick Shine Topcoat actually reacted with my base nail polish color, and aided it in drying!
Seriously...instead of waiting for more than 5 minutes for my nail polish to dry before applying a top coat on, what I literally do, is paint all 5 of my finger nails with the color I like, and almost right immediately, I'd brush on a coat of Jordana's Quick Shine Topcoat! And wallah!! before I know it, my nails are dried!!!! I'm serious!! lol And this all happens in less than 5 minutes!
Unlike top coats that keep manicures nice and unchipped for up to 2 weeks.... the Jordana Quick Shine Topcoat lasts a perfect manicure for up to a maximum of 3-4 days before my nail polish is visibly chipping! That's probably the only downside of this nail polish, otherwise, it's seriously a topcoat I would recommend!! =)
2nd-3rd Day after applying Jordana's Top Coat!
How it looks under the sun!
After wearing my nail polish for around 2-3 days, my nails remain unchipped and very shiny! I do see a blemish or two (scratches I mean), but besides that I think the nails look pretty well kept! It was probably the middle of my 3rd day that my nails began to chip, and right now, near the end of my 4th day of applying my top coat, 4 nails are chipped, and 6 of my nails still look alright!
I'm currently half way done with my this top coat, and one thing I realized about it, is that the top coat is beginning to harden. As I continued using the top coat, it became more condensed...if that makes sense. I'm not really surprised, cause that's also what happened to my Seche Vite Top Coat. Maybe it has something to do with a chemical in the polish that allows a quick finish. Maybe because the nail polish is so frequently exposed to the air, it began to harden throughout time. That's my guess though, lol let me know if I'm right!
OVERALL
So overall, I would recommend the Jordana Quick Shine Topcoat to others. Instead of paying $10.99 for a topcoat, I paid $1.49 (costs $1.99 on the website: here) for a top coat that definitely did its job! For such an affordable and cheap price, I really didn't expect an amazing outcome from this top coat, but it definitely surprised me!
So the positives on the Jordana Quick Shine Topcoat is that it is 1) fast drying 2) quickens the drying speed of the base nail polish 3) gives a very nice shiny and glossy finish 4) Incredible price! and 5) Does a pretty good job keeping the nail polish from chipping! As for the negatives....1) Lasts less than 5 days before the nail polish begins to chip & 2) Starts hardening after half the bottle is used.
Overall, I'm very impressed by the result, and I will probably purchase another bottle after I'm done with the one I'm currently using! I hope this review was helpful, and please feel free to ask any questions! =)